HAARP

H

IGH FREQUENCY ACTIVE AURORAL RESEARCH PROGRAM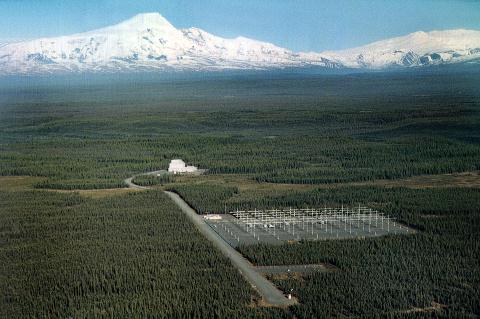 CAN THIS DEVICE CONTROL THE WEATHER? CAN IT BE USED TO PRODUCE A SORT OF DEFENSIVE SHIELD? SOME SCIENTISTS ARE SAYING THAT SIGNALS AND DATA EMANATING FROM THE SITE, CAN BE EASILY TRACED AND POINT TO THE FACT, THAT IS EXACTLY IT'S MISSION!!! LETS TRAVEL TO A FEW SITES THAT HAVE THE HARD DATA POSTED AND SEE WHAT THEY HAVE TO SAY!
BELOW IS THE STATED PURPOSE OF THE PROGRAM COPYED DIRECTLY FROM THE HAARP HOMEPAGE.
Program Purpose
HAARP is a scientific endeavor aimed at studying the properties and behavior of the ionosphere, with particular emphasis on being able to understand and use it to enhance communications and surveillance systems for both civilian and defense purposes.
The HAARP program is committed to developing a world class ionospheric research facility consisting of:
The ionospheric research instrument (IRI), a high power transmitter facility operating in the HF frequency range. The IRI will be used to temporarily excite a limited area of the ionosphere for scientific study.
Diagnostic instruments that will be used to observe the physical processes that occur in the excited region.
Observation of the processes resulting from the use of the IRI in a controlled manner will allow scientists to better understand processes that occur continuously under the natural stimulation of the sun.
In addition, diagnostics installed at the HAARP facility will be useful for a variety of other research purposes including the study of global warming and ozone depletion.
LETS VIST THE SITES BELOW AND SEE WHAT THEY HAVE TO SAY!!!


HAARP Updates

TESLA SHIELD TECHNOLOGY

Earth-penetrating tomography

ENTERPRISEMISSION/SHOT ACROSS THE BOW

THE ORBIT WEBSITE

Haarp Magnetometer and other real time data

Force Fields and 'Plasma' Shields

A New Laser

Bright Skies: Top Secret Weapons Testing?